$1099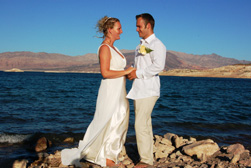 Lake Mead has spectacular scenic vistas, the lake surface and non-structured walks which makes for a striking and romantic backdrop for an outdoor wedding. The backdrop includes distant mountains ranges, the lakes and colorful soils, rock formations and mosaics of different vegetation. All of which sets the stage for tranquility, passion and romance.
All Inclusive Wedding and Renewal Package
Limousine
Complimentary Limousine for Bride & Groom plus 4 guests from Hotel to Ceremony at Lake Mead and return to Hotel.
Wedding Officiant/ Minister & Fees
The majority of Las Vegas Wedding companies are not inclusive of this cost but we do.
Brides 12-Rose Bouquet
Fresh roses arranged to form a beautiful bouquet in red, white or pink. Other colors and flowers are available with a small charge.
Grooms Boutonniere
A rose to adorn the groom's lapel.
Professional Photographer
60 professional photos. All photos are edited. All rights to photos included. If requested additional photos can be taken and available for purchase.
Wedding Keepsake
To cherish the memories of your special day.
Champagne
Celebrate your Wedding day.
Note:
* Add HD video to this package $150.00 *

** Items NOT included in any wedding or renewal package:
Marriage license must be obtained by the Marriage License Bureau in Las Vegas.
Gratuities for the photographer and videographer $60 per person.