$4599
Call today to reserve your day!  1.888.443.3135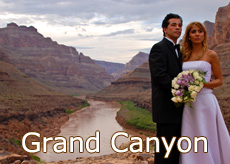 The Grand Canyon is among the earth's greatest on-going geological spectacles. Widely known for its exceptional natural beauty and considered one of the world's most visually powerful landscape. It's vastness is stunning and humbling.
The Grand Canyon will overwhelm your senses through its immense size 277 river miles long comprises of layered rocks, cliffs, hills and valleys. You will be picked up from your Las Vegas Strip hotel and taken to the Las Vegas airport. You will than take off in a state-of-the-art helicopter. These helicopters are front facing theatre style seats with spacious interiors. Your journey includes incredible views of the Hoover Dam, the Colorado River and the Famous Las Vegas Strip before descending 3,200 feet and landing inside the magical and mystical wonders of the world the valley floor of the Grand Canyon. Las Vegas Strip Weddings will perform your wedding ceremony on a cliff along the edge of the Colorado River this will allow for amazing photos.
After your ceremony enjoy a Champagne toast and picnic lunch. We at Las Vegas Strip Weddings will make your wedding day the most special and memorable day of your lives. Taking home with you the most spectacular photos.
Limousine
Complimentary Limousine for Bride & Groom to helicopter pad and return to hotel.
Wedding Officiant/ Minister & Fees
The majority of Las Vegas Wedding companies are not inclusive of this cost but we do.
Brides 9-Rose Bouquet
Nine fresh roses arranged to form a beautiful bouquet in red, white or pink. Other colors and flowers are available with a small charge.
Grooms Boutonniere
A rose to adorn the groom's lapel.
Professional Photographer
100 professional photos. All photos are edited. All rights to photos included. If requested additional photos can be taken and available for purchase.
Wedding Keepsake
To cherish the memories of your special day.
Champagne & Two Glass Flutes
Celebrate your Wedding day and take the glasses home.

Champagne Picnic Lunch
After ceremony enjoy a champagne toast & a picnic lunch on the floor of the grand canyon.
Note:
Deposit required upon reservation 50% of package price plus additional $500.00 to hold helicopter for your date & time.
Balance of package due 30 days prior to you're wedding date.
Total weight not to exceed 1100 pounds. This includes Bride & Groom, Minister and Photographer.
* Gratuity of $60 each for photographer and videographer NOT INCLUDED
***Add dvd to above package additional $50
***Deposits required upon reservation 50% of package price plus additional $500 to hold helicopter for your date and time. Balance of package due two weeks prior to your Grand Canyon wedding .